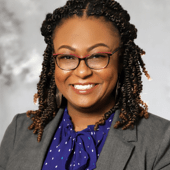 Akayla J. Jones
Director of Training & Corporate Compliance – Apprenticeship
As Director of Training & Corporate Compliance, Akayla brings a wealth of experience and knowledge with more than  5 years experience working in the public sector to help grow small businesses. Prior to joining SnapIT's team, she was Director of External Civil Rights for the City of Kansas City, Missouri-Aviation Department, managing the airport's DBE, Title VI and ADA programs. Akayla has experience in program compliance, federal and local reporting requirements and ensuring minority and woman owned firms utilization on relevant projects, holding her Contract Compliance Administrator (CCA) certification from Morgan State University (2016).  As a daughter of a small business owner, her passion is to find the tools small businesses need to succeed. This passion is what caused Akayla and SnapIT Solutions to eventually cross paths. Akayla was the first to join SnapIT's leadership team, or as we internally refer to it, the Accountability team, in May of 2019 as Director of Corporate Compliance. 
After joining SnapIT, it was quickly discovered that her primary role should be expanded to include duties within the SnapIT Training Division. Due to her experience and knowledge, Akayla was quickly promoted to Director of Training for SnapIT. Akayla's primary role as Director of Training is to manage the training schedule, budget, and a professional and administrative staff of 13. Her primary focus is expanding SnapIT Technology Training to other regions. Under Akayla's direction, SnapIT Trains has expanded its training footprint to include not only Missouri and Kansas, but Oklahoma, Colorado, Iowa and Michigan. 
Akayla holds a B.A. from the University of Missouri-Columbia in Psychology with a minor in Political Science (2008), and a Juris Doctor from the University of Missouri-Kansas City School of Law (2012).  Akayla is a licensed attorney in good standing with the State of Missouri.
Akayla resides in Kansas City, MO with her fur baby, a maltipoo named Jazzy. She enjoys playing tennis and traveling domestically and internationally.